Was pretty hyped for the real rank season now...but then I had experience how awful it is to play with randoms. Comp games with Creed were really awesome the last week but if you have to play with lvl 7 guys who kill you more often than the real enemies...you know you´re fucked. I could show you some of the screenshots but I know you want to keep your vision so im not going to do that. After 2 hours of comp games the result looked like this: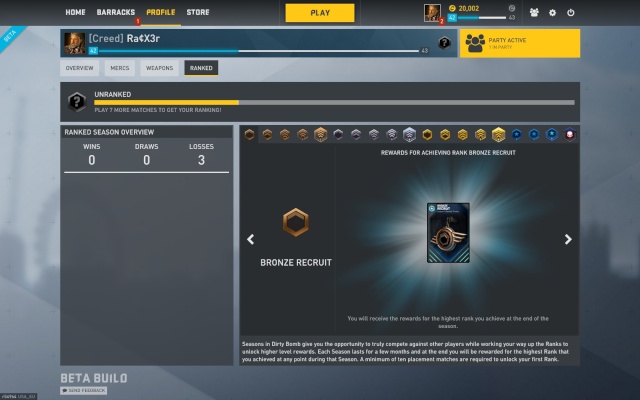 In other words: I won´t do comps until they decide to bring back 5 man queues.
(And yes, now my palms hurt because I had to smash them against the desk way too often LOL)
Creed General




Posts

: 992


Join date

: 2013-06-02


Age

: 21


Location

: Germany



Comp games have just become @$!# pub games with the only difference that you have to wait ages before jumping into it.

Last 7 comp games I tried to play:
1.) Waited for 4 minutes. Joined a game Lobby, one didn't join the Lobby. Back to search
2.) Waited for 3 minutes. Game started, one teammate is afk/leaves after 2minutes.
3.) + 4.) I lost connection to the game Lobby. Two 3 minutes plus searches for nothing.
5.) Decent game to the end after only 6 minutes search.
6.) 3 minutes waiting for a game. One player doesn't find the Lobby - back to the search
7.) A bit more then 1 minute waiting. Game started, One enemy leaves, but comes back after 1 minute. After 2 minutes one of my teammates leaves.

One good game out of 7. But no teamplay, no strategy and no tactics. Just 5 players running around and doing their own stuff. Sometimes it works, sometimes it is bad. Just like on pub games.

But I had Tricky in my team. That was good.
Eternal Creed General




Posts

: 1459


Join date

: 2013-04-13


Age

: 67


Location

: Germany



I heard rumors that comp games get fun again when you are a gold rank, but I'm not sure if this is true, because the skillrange is at max everytime you find a game. So you would end up playing everything between bronze and elite.... Anyways, I'll go for gold.
Eternal Creed General




Posts

: 1459


Join date

: 2013-04-13


Age

: 67


Location

: Germany



How do you want to get gold? I´ve had to play with randoms/noobs so often that there was no real chance to level up.
And yea the skill range...After I was ranked as silver 4 I still faced the same enemies as before
Creed General




Posts

: 992


Join date

: 2013-06-02


Age

: 21


Location

: Germany




---
Permissions in this forum:
You
cannot
reply to topics in this forum